Intelligence and insights for the smart-home industry
November 2019
Welcome to Plume IQ, our reveal of data-driven intelligence and consumer insights from more than 2.5 billion connected devices, and over 55 million locations, managed by Plume's cloud platform.
The Catastrophic Effect of Interference
For ISPs, interference can be a major barrier to achieving strong throughput and high quality of experience (QoE). In densely populated areas the problem is at its highest. We analyzed data taken from 30 multi-dwelling units (MDUs), both before and after applying Plume's Wi-Fi optimization. Prior to optimization 35% of apartments suffered high interference levels. However, after optimization this dropped to less than 1%. Which means that customers are far less likely to make support calls because they cannot perfectly stream the latest 4K movie, or make that important video call without buffering.
Read our recent blog post >
Download our Adaptive WiFi white paper >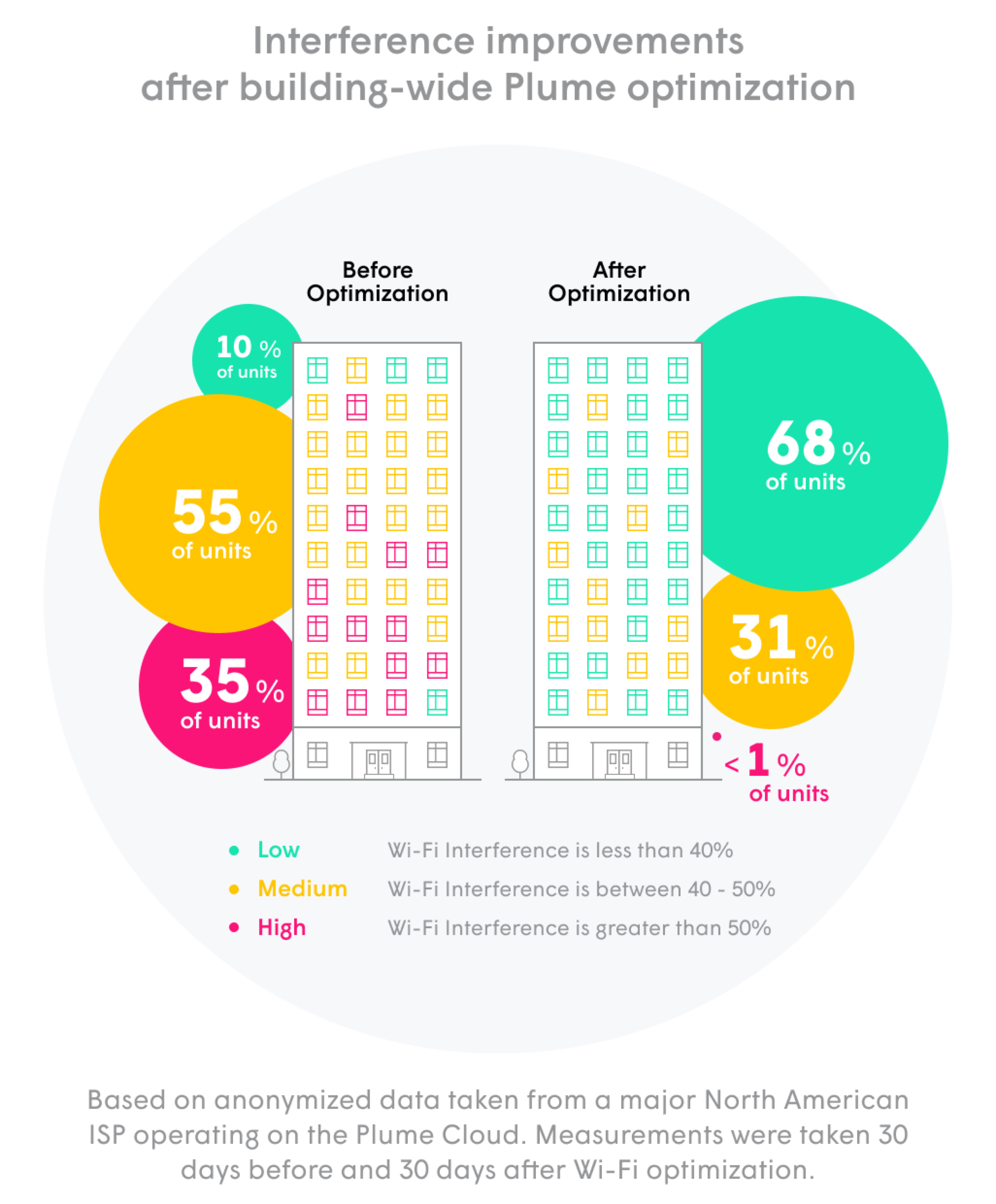 Other Plume news

Massive month
In November, three more ISPs enhanced their broadband offerings by adding Plume's smart home services bundle. We're delighted to welcome Switzerland's Sunrise , Belgium's VOO , and the UK's WightFibre to join our rapidly expanding list of partners. In addition tohelping improve, personalize, and secure the smart home experience for subscribers, Plume's unprecedented back-end support tools and data insights will enable Sunrise, VOO, and WightFibre to deliver exceptional levels of customer service.
Check-out one of our favorite partner videos from VOO >

Charter adopts OpenSync
OpenSync received the perfect anniversary present as Charter Communications joined the smart home services, open-source initiative. Charter discussed the benefits of adopting the platform with Wi-Fi NOW's Claus Hetting : "With this technology, we're in command of our own innovation destiny and the pace with which we can introduce new market facing services. That's the power of the OpenSync platform," says Carl Leuschner, SVP Connectivity. Announced a little over 12 months ago, OpenSync has established itself as the fastest-growing open-source framework for the smart home, building an expansive list of adopters and contributors including Samsung, Comcast, Bell Canada, and Liberty Global.
Read the Wi-Fi NOW article >
Learn more about OpenSync Academy training courses >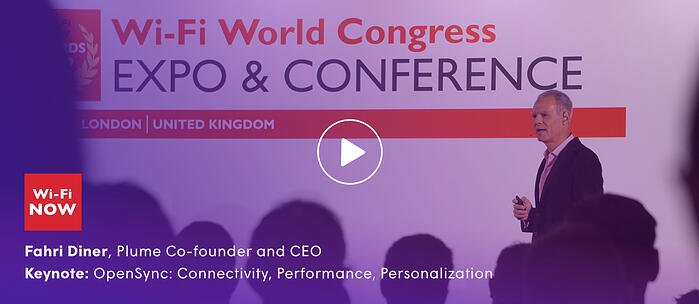 The future of smart home services
Connectivity, performance and personalization were central to Plume Co-founder and CEO Fahri Diner's keynote at Wi-Fi NOW, London. Diner delivered a retrospective on a monumental year that saw OpenSync establish itself as the de-facto open-source platform for delivering smart home services and distinctive customer experiences to broadband subscribers. Diner unveiled an impressive list of metrics to illustrate the platform's scale with 453M devices, 7300 unique device types, 1000 visible device brands, and 62 Petabytes of data managed across OpenSync-powered clouds every single day.
Watch the keynote > Read Diner's interview with Wi-Fi NOW >

In the press
ARS Technica's Jim Salter asks the question 'How does Plume get all these ISP partnerships?'.