Intelligence and insights for the smart-home industry
August 2020
Welcome to Plume IQ, our reveal of data-driven intelligence and consumer insights from more than 2.5 billion connected devices, and over 50 million locations, managed by Plume's cloud platform.
Keeping children safe online
With smart home device usage at unprecedented levels, it's vital that parents keep their children safe online. Analyzing common protection categories applied in the Plume App, we spotted some fascinating trends. While smartphones have content blocked almost equally across age groups, tablets have content filtered 4x more readily for kids aged 12 years and under. At a category level, personal sites and blogs had a noticeably higher monthly block rate of 186 events for teens, who may well wish to reach out to influencers, however, not all influences on the web are positive.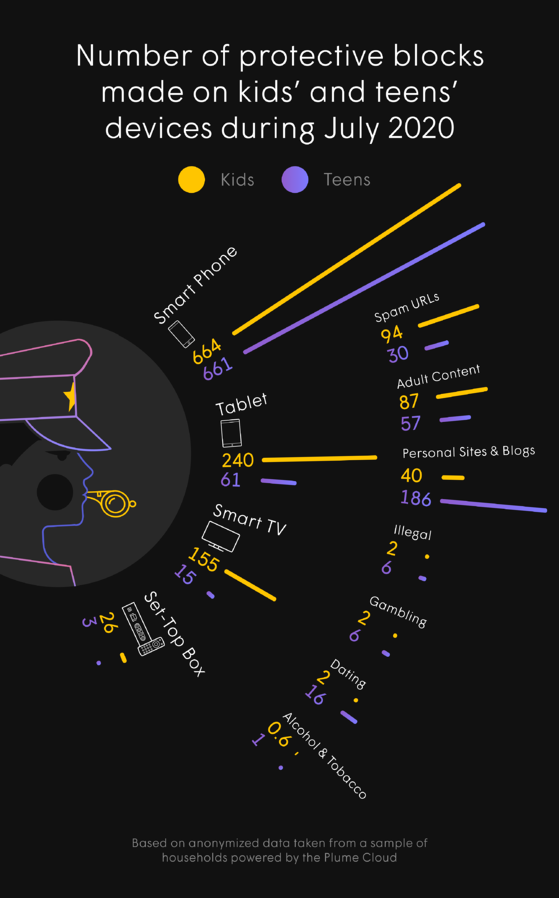 Other Plume news

Goodbye commoditization!
Technicolor Connected Home (TCH) is the latest consumer premises equipment (CPE) provider to adopt OpenSync—the fastest growing open-source framework for smart homes. The powerful combination of OpenSync, pre-integrated with the latest Wi-Fi 6 CPE platforms, and highly personalized Smart Home Services, offers a powerful differentiator for progressive service providers who want to raise their games beyond speeds and feeds. The combined offering will be jointly marketed through TCH'sHERO Partner Program.
Read the news release >

Winning partnership
We're honored to receive Light Reading's Leading Lights award for the Most Innovative IoT/M2M Strategy for Zoom, Powered by Plume. "Following our service deployment, we have witnessed whole-sale improvements across our consumer experience metrics", said Mike Giobbi, Chief Technology Officer, Armstrong. "In particular, the trend in reduction of internet-related service calls and truck-rolls have exceeded the performance of anything that we've previously offered."
Read the announcement >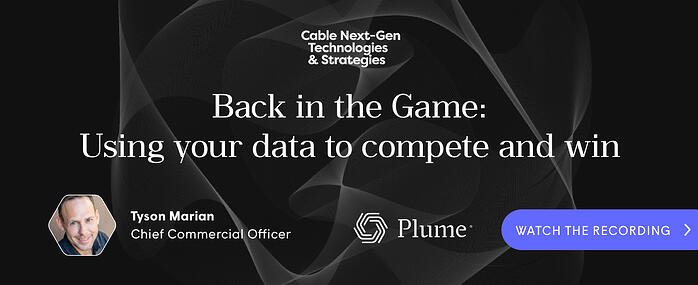 Data visionaries
To create profitable smart home strategies, cable service providers must leveragedatathroughout their operations. By using data in new ways, providers can create bespoke experiences, generate major business efficiencies, and deliver an ever-expanding set of innovative services to delight and retain subscribers. This was the overriding message as Plume's data visionaries Tyson Marian, Chief Commercial Officer, and Adam Hotchkiss, Co-founder and VP Productjoined industry experts at the virtual Cable Next-Gen Technologies and Strategies event.
Watch Tyson's keynote >
Watch Adam's panel >

In the press
Smart home security has never been more important. Consumers are enhancing their homes with an increasing number of connected devices, at the same time, the nature of work is changing, with more people working-from-home than ever. As a result, cybercriminals have increased their activity levels, with Plume data showing that threat levels have doubled during the pandemic. Our latest whitepaper sets-out a holistic approach to cybersecurity to ensure that subscribers get the best protection.
Download the whitepaper >

In the press
As digital transformation continues at pace, how do service providers drive innovation forward during unprecedented times? Plume's CTO Bill McFarland shared his insights with IABM.
Watch the video >
Plume's Co-founder and CEO Fahri Diner explained how OpenSync is helping service providers accelerate the deployment of new services during an interview with Wi-Fi NOW's Claus Hetting.
Watch the video >
Silicon Valley Bank's Anna Kimwrote "Plume brings office-grade connectivity with an Adaptive WiFi system that learns users' habits and makes advanced optimizations to allocate bandwidth where it is needed most."
Read the article >
Was this newsletter useful?