Intelligence and insights for the smart-home industry
November 2022
Welcome to Plume IQ, our reveal of data-driven intelligence and consumer insights from more than 2.5 billion connected devices, and over 50 million locations, managed by Plume's cloud platform.
Is Steam disrupting the gaming status quo?
In April 2019, we published our first report on the gaming market; over three years later we felt it was high time that we returned to this popular pastime to provide an updated perspective from the Plume Cloud:
Deployments of new game consoles are slowing – since the onset of the global COVID pandemic, we've seen a slowdown in the number of game consoles from the leading brands introduced to Plume-powered homes. This may be due to component supply issues, but could also be related to the fact that few new game consoles have been introduced to refresh the market.
Nintendo claims the top spot for popularity – when it comes to game console ownership, Nintendo (41.3%) leads Microsoft (38.2%), flipping their respective positions from April 2019. However, it's fascinating to note that a new entrant 'Steam' is taking market share, albeit currently at only 0.6% of the installed base.
Steaming ahead – despite the slowdown in the deployment of game consoles, usage remains high with the average daily data consumption for all console brands—apart from Nintendo (0.6 GB)—well above the average of 1.2 GB for all devices connected to the Plume Cloud. Noting that as all games must be downloaded or streamed, Steam users top the data usage chart with a staggering 9.2 GB of data consumed on average per day.

Other Plume News

Bom dia, Portugal!
We're delighted to partner with and support NOS in the expansion of its Smart Home Services in Portugal, bringing consumers a new premium WiFi offering that includes individual home diagnosis, installation, 24/7 technical support, and permanent remote quality monitoring.
Learn more (in English) >
Learn more (in Portuguese) >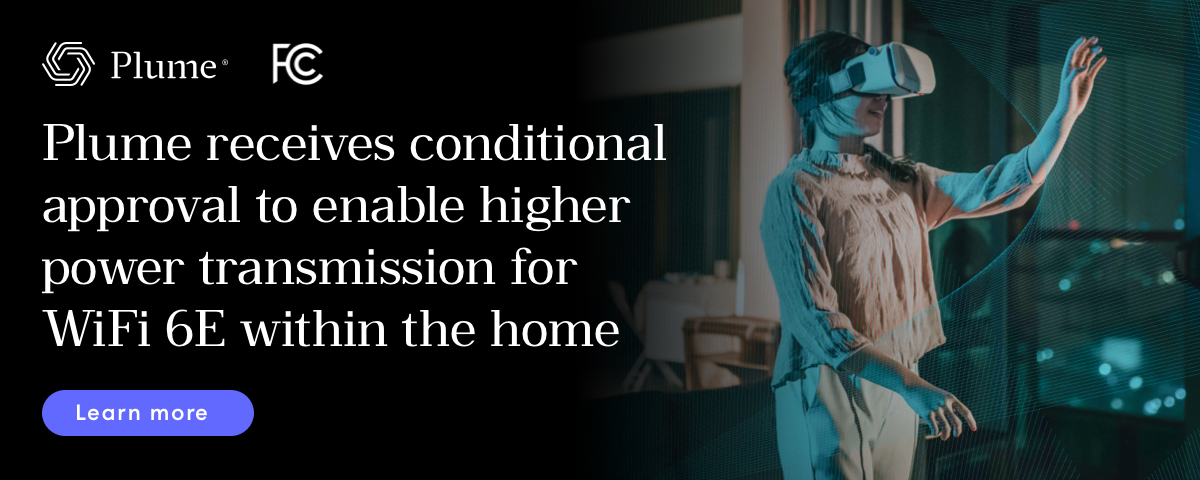 Leading from the front
We're delighted to share that the U.S. Federal Communications Commission has confirmed that Plume is in the first wave of industry leaders granted conditional approval to test an automated frequency coordination (AFC) system to fully optimize the use of the 6 GHz WiFi channel in smart spaces.
Read the article >

The future of smart spaces
We partnered with Freethink to show how we're helping to create the smart home of the future, and how it's going to revolutionize how we live our lives. Follow our journey through the eyes of Plume users and superfans, and learn more about the transformational aspects of our data-driven product suite!
Watch now >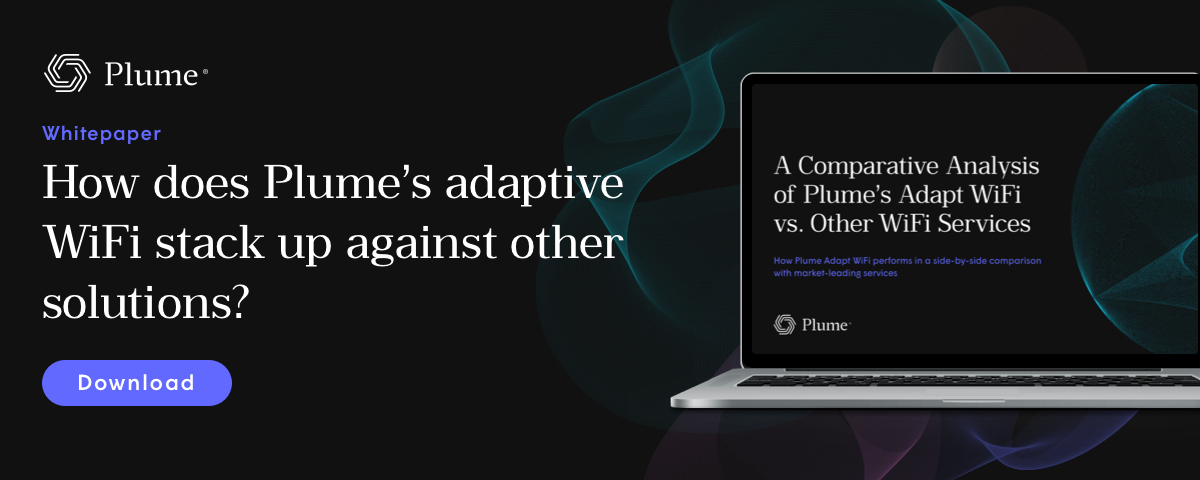 New whitepaper: Good. Better. Best.
We know CSPs need a smarter way to respond to expectations for better connectivity and performance in an evolving market. That's why we compared our adaptive WiFi service 'Adapt' against other solutions available using seven measures of customer experience.
Read the whitepaper >

News round-up
The power of OpenSync: Learn more about our partnership with Adtran from Wi-Fi NOW's Claus Hetting in conversation with Ryan McCowan, CTO of the Americas at Adtran.
Read the article >
At Network X, Plume's Chief Product Officer, David Huynh discussed the rapidly evolving MDU market and the opportunity that this significant sector presents to CSPs by leveraging our new Uprise services suite.
Watch the video >
Our VP of Customer Solutions, Adam Hotchkiss caught up with Omdia's Research Director, Michael Philpott to discuss the challenges and the opportunities that CSPs face in today's rapidly evolving broadband services market.
Watch the video >