Intelligence and insights for the smart-home industry
November 2020
Welcome to Plume IQ, our reveal of data-driven intelligence and consumer insights from more than 2.5 billion connected devices, and over 50 million locations, managed by Plume's cloud platform.
How impactful is Prime Day?
We correlated specific Amazon Prime Day deals with device onboarding data to chart the event's impact on Plume member households. While we do see a substantial peak in devices that were on offer just 2 days after Prime Day, the collective sell-through of those devices was even higher following other seasonal events. On Prime Day, the specific device offers that we tracked proved equal in popularity, yet voice assistants were a real winner at Christmas, with smart plugs trending on Black Friday and Cyber Monday.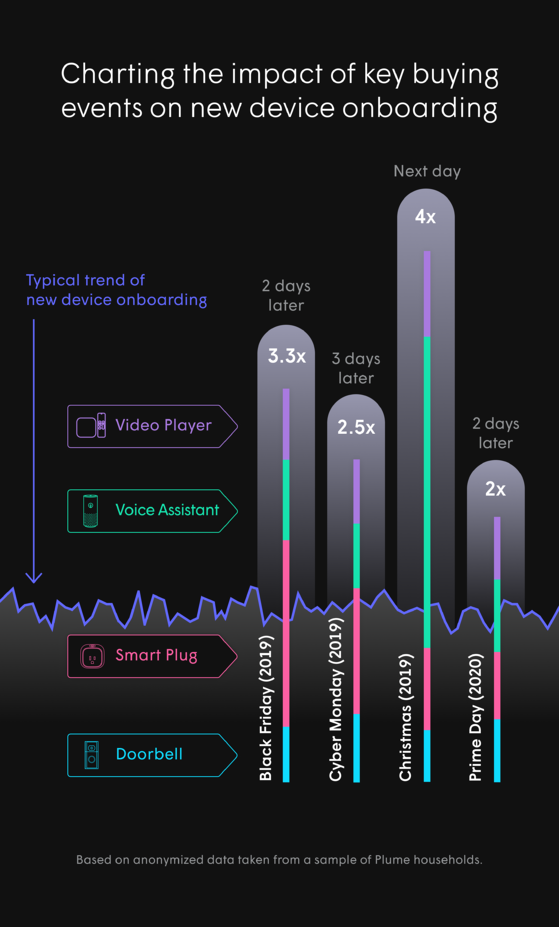 Other Plume news

Team expansion. Welcome Walleye!
We're thrilled to share news of our acquisition of network and security intelligence leader Walleye! This move fortifies our position as "The Experience Service Provider" by immediately adding specialist technical expertise to further optimize our services suites for Communications Service Providers (CSPs). "Walleye Networks enables an unparalleled level of insight with the most robust and in-depth data-driven security solutions available today—all developed to meet the highest levels of privacy," said Fahri Diner, Co-founder & CEO, Plume.
Read the news release >

Unmatched by the competition
We're honored that Frost & Sullivan has unveiled Plume as it's Global Entrepreneurial Company of the Year in the Smart-Home-as-a-Service category. Anirudh Bhaskaran, Senior Industry Analyst, Frost & Sullivan said: "Plume's cutting-edge Consumer Experience Management Platform equips Communications Service Providers with intelligent data-driven tools to ensure unprecedented visibility into the homes of broadband subscribers—from our in-depth market analysis, we feel that it's unmatched by the competition."
Learn more >

Bonjour POST!
We're excited to share the news that POST is the latest CSP to deploy Plume's HomePass Smart Home Services suite. Consumers across Luxembourg now have access to the benefits of self-optimizing WiFi, AI-enhanced cybersecurity, advanced parental & access controls, and more—all powered by the Plume Cloud. Our Haystack data prediction and analytics suite will ensure that POST can proactively support their subscribers, helping them to enhance customer satisfaction and reduce churn.
Read the new release >

New services: The time is now
Subscriber churn costs CSPs billions of dollars in lost revenue every year. This webinar explores how Providers can address this key industry issue by leveraging data to deliver enhanced subscriber experiences, and achieve game-changing operational results. Join our expert panelists as they share their insights on the virtual stage:
Sara Winegardner, Senior Editor, Cablefax
Scott Young, Director of Marketing and Project Management, Service Electric Cablevision
Tyson Marian, Chief Commercial Officer, Plume

Round-up
Plume's CTO Bill McFarland highlights how a new Quality-of-Experience (QoE) model has provided the key to delivering flawless subscriber experiences during the pandemic.
Read the article >
Readwrite's Brad Anderson predicts that Plume's HomePass self-optimizing whole-home Wi-Fi service will be one of the 6 consumer tech products to take the market by storm in 2021.
Read the article >
Plume's CMO Todd Grantham reflects on Plume's record-equalling triple award win at Broadband World Forum 2020, and why consumer experience is central to Plume's mission.
Read the article >
Was this newsletter useful?