Intelligence and insights for the smart-home industry
April 2020
Welcome to Plume IQ, our reveal of data-driven intelligence and consumer insights from more than 2.5 billion connected devices, and over 50 million locations, managed by Plume's cloud platform.
COVID-19: Quality of Experience (QoE) is crucial
As work- and learn-from-home directives have swept the globe, there was concern that ISPs could not keep up with bandwidth demand, however, insights from the Plume Cloud show the reality. Hunger for data in the home surged over this time, however, ISPs have maintained download and upload data speeds into and out of homes. Inside the home, we've seen load and congestion peak at 69% and 80% more than their typical pre-COVID-19 baselines. For our members, the AI-powered Plume Adaptive WiFi algorithms have smoothed-out impacts and maintained constant throughput to keep QoE scores, and device experiences, near perfect.
Learn more about Plume's approach to QoE >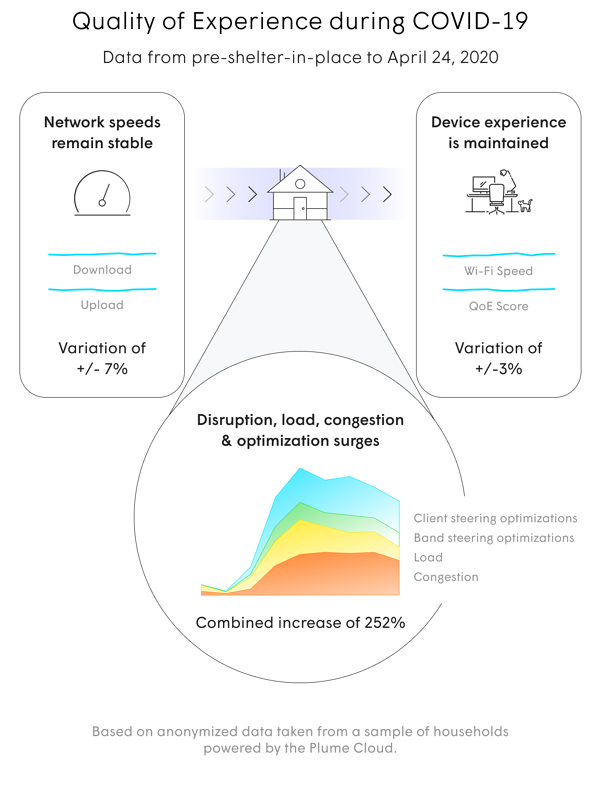 Other Plume news

Self-install brings safety
Plume's self-install approach enables services to be deployed safely and responsibly, and we're delighted to reveal that i3 Broadband is the latest ISP to deliver Plume's Smart Home Services portfolio in a mostly contactless fashion. i3 Smart WiFi, Powered by Plume, brings flawless internet coverage, robust security, and unrivaled access controls, and is helping customers across Illinois stay connected, productive, and entertained during unprecedented times. 'Our customers really appreciate the super simple app-based approach to installing Plume on their own', said Brian Olson, General Manager at i3 Broadband. 'This is particularly important at this time when we're doing our part to limit a technician's need for entering the subscriber's home.'
Read the news release >
Self-install Plume in minutes >
Ask about our zero-contact supply, install & support offering >

OpenSync for ADTRAN!
Exciting times are ahead as we expanded our channels to market forming a new partnership with ADTRAN! The collaboration will see the provision of OpenSync in ADTRAN's extensive gateway device portfolio, further expanding the reach of what is already the fastest-growing open-source initiative for the smart home. Experts in tier 1, independent, and alt-net telco sectors, and with a global footprint of over 60 countries, ADTRAN will enable its customers to monetize the smart home and elevate the subscriber experience through the rapid deployment of Plume's cloud-enabled services.
Read the news release >
Read the Broadband Technology Report article >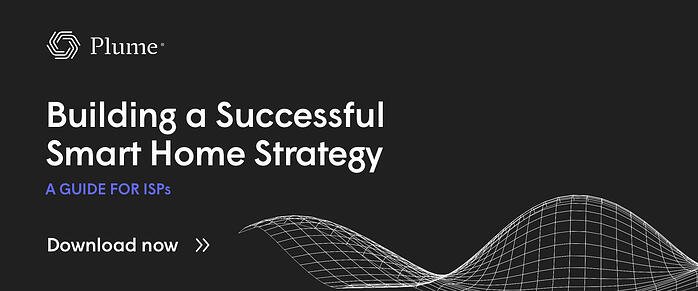 Guiding the smart home future
The smart home is growing exponentially, with more connected devices and more over-the-top services straining home networks like never before. Users demand flawless and highly personalized experiences, and with existing subscriber relationships, ISPs are best placed to capitalize. But how? In the first of our all-new guide series, we examine both the challenges and opportunities that the smart home brings. Our guide concludes with why the foundation of fast, ubiquitous, secure, and reliable connectivity should be complemented with new cloud-based services, to enable service providers to pivot from price wars, capitalize on consumer demand, and enable them to remain vital into the future.
Download the guide >

In the press
'It's fascinating to see new home working patterns emerge as people adjust to the new norm.' Plume's CMO Todd Grantham joined Light Reading's Editor Phil Harvey to discuss the trends that Plume Cloud data revealed as shelter-from-home directives took hold across the United States.
Listen to the podcast >
We're proud to be powering smart homes for so many working and learning from home today, and honored to be included in San Francisco Business Times' list of '7 hottest Bay Area startups from the first quarter.'
Read the article >
Sadly, cybercriminals work overtime to exploit periods of worry and uncertainty. Writing for Forbes, Serenity Gibbons highlights the need for businesses to look to more advanced AI-driven cybersecurity solutions to protect their workers at home.
Read the article >