Intelligence and insights for the smart-home industry
December 2021
Welcome to Plume IQ, our reveal of data-driven intelligence and consumer insights from more than 2.5 billion connected devices, and over 50 million locations, managed by Plume's cloud platform.
5 smart home trends in 2021
As 2021 draws to a close, we reveal 5 key trends following an in-depth analysis of 12-months' device- and network-usage data from Plume-powered smart homes.
Other Plume news

More hardware choices
We're excited to announce our new partnership with Edgecore Networks, developed to bring service providers even greater hardware choice! Through this collaboration, select Edgecore Networks consumer premise equipment (CPE) will be pre-integrated with OpenSync open-source software, providing out-of-the-box access to Plume's SaaS Experience Platform and services suites.
Read the press release >

Viva Las Vegas!
It's time to move the connectivity conversation beyond speed and price and start winning on customer experience. Our experts will be at CES 2022 to demonstrate how to improve your smart home and small business offerings, gain a competitive edge, and delight your subscribers with exceptional and highly personalized experiences.
Book your demo >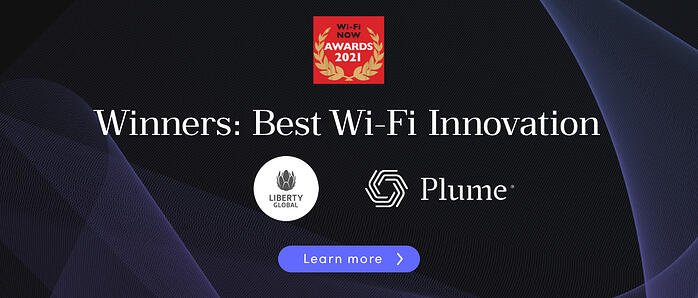 Winning run
We're honored that Plume and Liberty Global have been jointly awarded Best Wi-Fi Innovation by Wi-Fi NOW for our collaboration on ONEConnect. Claus Hetting, CEO & Chairman, Wi-Fi NOW commented "Best Wi-Fi Innovation is our most hotly contested award—Plume and Liberty Global stood out as a result of the game-changing innovation they've brought to the cloud space."
Learn more >

Ringing endorsement
We're thrilled that the judging panel at Broadband Technology Report's Diamond Technology Reviews presented Plume with an unprecedented 4.5 (out of 5) stars in both the Monitoring & Analysis and WiFi Solutions categories—the highest score in either category! Every year, the reviews recognize innovation in broadband communications, video transmission, and related technologies.
Learn more >

News round up
In our latest article, we discuss why the traditional cable bundle is in need of a serious makeover, and why the cloud is pivotal to unlocking the next generation of services.
Read the article >
Our Head of OpenSync Partnerships, Niall Robinson, joined CTAM Europeto discuss how and why OpenSync has risen to become the leading open-source platform for smart homes and small businesses.
Watch on demand >
Our CTO, Bill McFarland, joined Prakash Sangamon the Tantra's Mantra Podcastto discuss the intricacies of managing WiFi networks and the role AI plays.
Listen now >