Yesterday's metrics fall short for today's smart homes
Posted 01/30/2020, 12:00 AM
Customer satisfaction is highly dependent on the performance of every device in Smart Homes, which means it is critical for ISPs to get right. We analyzed data from the Plume Cloud and found that relying on legacy metrics, such as Internet speed and coverage alone can, and often does, give the wrong impression of a device's status. The more robust Plume Quality of Experience (QoE) metric gives a more accurate reflection of performance.
Read the blog post to learn more >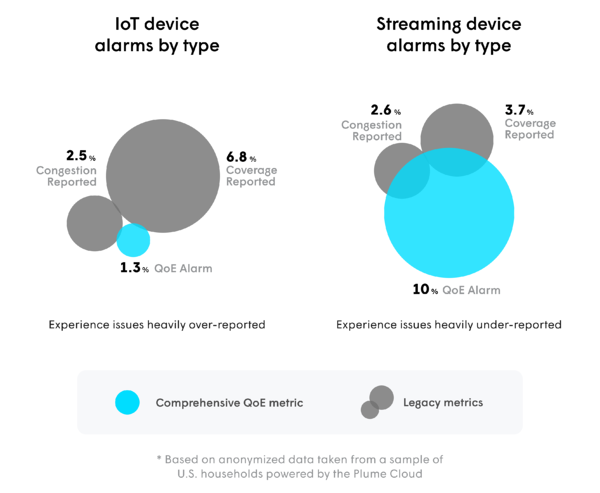 Other Plume news

All systems go for C Spire!
We're delighted to share the news that C Spire - the largest privately held wireless carrier in the United States - is the latest ISP to roll out Plume's consumer experience platform for the Smart Home. C Spire Smart WiFi, Powered by Plume brings the powerful combination of flawless Wi-Fi, robust security and advanced personalization to customers. In addition, Plume's data-driven support tools will provide C Spire with invaluable insights to manage subscribers' Smart Homes more effectively.

Standing room only
Exciting times are ahead for both consumers and our ISP partners, as Plume's Co-founder & CEO Fahri Diner unveiled Plume Motion to a packed house at CES! As ISPs look for new ways to compete with over-the-top offerings, this new service uses Wi-Fi to analyze motion in the home, bringing a wealth of possibilities in the areas of health, security, and home automation. Thanks to the OpenSync platform, ISPs can deploy the service across their entire subscriber bases at the touch of a button.
Read the blog post >
Watch the promo video >

Oh, what a night!
Smart Home 2.0 is set to deliver a new era of services based on cross-device experiences and personalization, but what are the opportunities, innovations, and challenges faced by ISPs, device makers, and app providers in rolling it out? At CES, we brought industry leaders together to discuss these topical issues. Speakers from Armstrong, Belkin International, Bell Canada , Cognitive Systems and NortonLifeLock joined the conversation. Here are some of the key sound-bites:
Smart Home 2.0 explained >
Bell Canada and Armstrong talk Smart Home >
The value of OpenSync >
Cognitive Systems partners to deliver Plume Motion >

In the press
As part of our CES event, Horowitz Research put together a report that shows where they think Smart Home 2.0 is going. Using data compiled from the Plume Cloud they paint a picture of how devices and software work together seamlessly to generate hyper-personalized consumer experiences.
'Driving the Smart Home 2.0 movement forward is Plume, a software-based smart services company that broke onto the WiFi scene back in 2014' wrote Sara Winegardner, Cablefax.
'The CES 2020 show floor is brimming with connected, one-off Internet of Things (IoT) products, but the next generation of the ever-evolving smart home market will be defined by software platforms that can stitch those products together to create useful services and "experiences" for the consumer...' reported Jeff Baumgartner, Light Reading.