Plume takes away two accolades at the Wi-Fi NOW Awards!
Posted 12/16/2020, 1:09 AM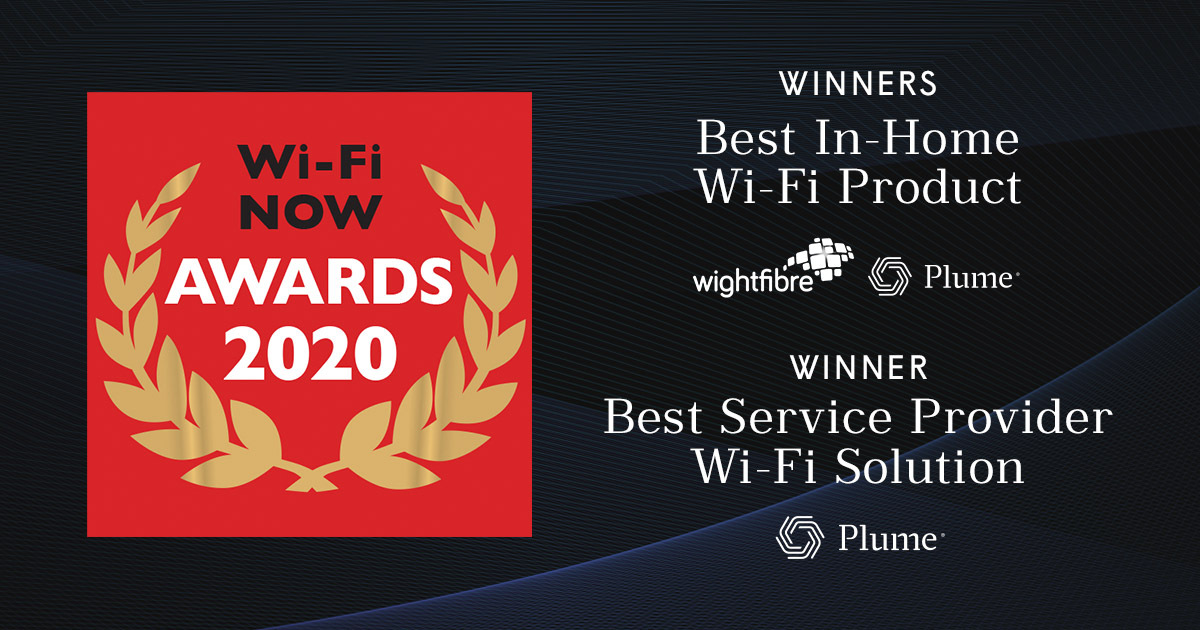 From design to implementation to support, everything we do at Plume is focused on delivering the best smart home experience on the market. While our customer reviews and the feedback we get from our Communications Service Provider (CSP) partners tell us that we're on the right track, recognition from our industry peers is undoubtedly a welcome bonus.
That's why we're delighted to have received two Wi-Fi NOW 2020 Awards. Plume earned accolades in the following categories to mark the success of our Consumer Experience Management (CEM) Platform:
Best Service Provider WiFi Solution Best In-Home WiFi Product
Wi-Fi NOW has established itself as one of the leading voices in the WiFi market, bringing in-depth knowledge and technical insight to senior executives across the communications industry. Renowned for its independence, the team has assembled an array of highly experienced judges to adjudicate and oversee the awards.
Judges evaluated dozens of competitors in each category, analyzing each submission against criteria including innovation in in-home WiFi performance and user experience, design, competitive pricing, and growth potential. In selecting a winner in the Best Service Provider WiFi Solution category, judges were looking for the highest-value solution for service providers and gave extra credit to solutions that benefit the wider WiFi ecosystem and/or drive down connectivity costs per bit. 
We're particularly proud that the award for Best Service Provider WiFi Solution recognizes Plume for what we consider to be our greatest strength: our customer experience. As consumers' homes, habits and connected devices evolve, the Smart Home is becoming more complex and congested. Plume's CEM Platform delivers a new Smart Home Services bundle designed to not only dramatically improve Internet coverage and speeds within the home, but also enhance connected device security and provide subscribers with a highly personalized and superior smart home experience. This, in turn, helps CSPs surprise and delight their customers while growing their own business.
We're pleased to also be jointly recognized for the Best In-Home WiFi Product award along with our partner WightFibre, a leading provider of broadband cable services on the Isle of Wight. We worked with WightFibre to launch their Whole-home WiFi Powered by Plume, helping them to deliver game-changing, smart home experiences designed to improve, personalize, and secure their customers' home networks.
"WightFibre's full-fibre broadband provides some of the best broadband speeds to be found anywhere in the world so we needed a world class, in-home WiFi solution to match this," said John Irvine, CEO, WightFibre. "We made the further decision to deploy Plume to 100% of our customer base rather than as an optional extra. This provides every WightFibre customer with a great experience. The metrics speak for themselves – our customer satisfaction Net Promoter Score is now consistently in the high 50s. The average time taken to resolve a customer case has reduced from 1.47 to 0.45 days as problem resolution now rarely requires an engineer visit. The number of cases has also reduced by 25% year on year."
While this year's Wi-Fi NOW Awards were held entirely online for the first time due to the pandemic, we celebrate our double win at our office, in our living rooms, and everywhere else we're working this year.
Learn more about the WiFi NOW Awards
About WightFibre
WightFibre provides phone, TV and full-fibre broadband services to homes and businesses on the Isle of Wight. The WightFibre Gigabit Island Project will see full-fibre broadband deployed to over 60,000 homes on the Isle of Wight by 2022, funded by Infracapital Partners part of M&G Investments.