News
Meet the SuperPod with WiFi 6
by Plume Team
May 2021
Today, we're excited to introduce our most powerful hardware yet: SuperPod with WiFi 6. Our new SuperPod supports WiFi 6, the next-generation WiFi standard built to support faster speeds and handle even the busiest of home networks. SuperPod with WiFi 6 not only works with all legacy WiFi devices, but is a WiFi 6 compatible device as well. Let's have a look at what this new generation of WiFi is all about, and what the SuperPod with WiFi 6 means for current HomePass members.
What is WiFi 6?
No one ever mentioned WiFi 5, and WiFi 1, 2, 3, and 4 don't sound familiar either, so it's no surprise that many aren't familiar with this nomenclature. WiFi 6 was first introduced in 2018, when the Wi-Fi Alliance, an organization that certifies WiFi-enabled devices, announced it had developed a new naming system meant to make WiFi updates easier to understand. Simply put, a WiFi 6 compatible device can support WiFi based on 802.11ax technology. The "802.11" prefix identifies the general technology that makes wireless communication possible, while "ax" indicates the technology's specific generation. The technology in WiFi 6 supports significantly faster speeds than WiFi 5, and is designed to handle bandwidth from a lot of devices. So yes, it's better than WiFi 5—if you have the hardware to support it.
Speaking of hardware …
For HomePass members, the SuperPods you already have in place will continue to provide you with the fast and consistent WiFi you've grown to rely on. If you plan to buy many WiFi 6 compatible devices, you may want to upgrade your network to SuperPod with WiFi 6 to see the real potential of your WiFi 6 devices. If you decide not to upgrade, your WiFi 6 devices will still work well, but you won't get to enjoy benefits like higher data rates and increased capacity. For an access point (like a SuperPod) and any other device to communicate via WiFi 6, they both need to have WiFi 6 technology. If either is equipped with an earlier generation of WiFi, that's the WiFi they're going to use.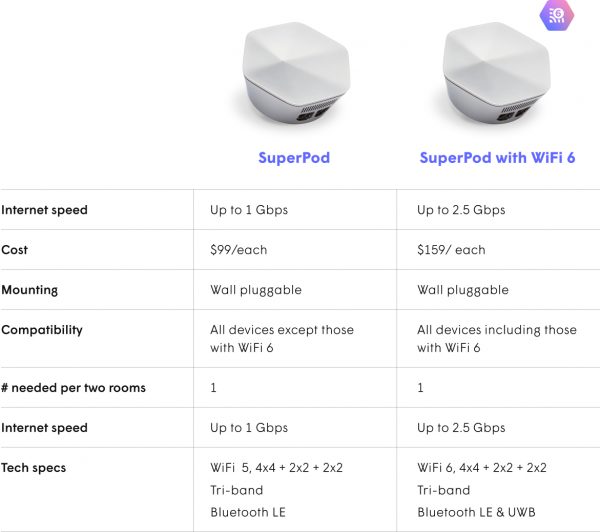 HomePass has you covered
The good news is that no matter what you do, your HomePass services will be delivered as reliably as always. With your SuperPod, or your SuperPod with WiFi 6, you can use HomePass to optimize device performance in your home—we'll help you get the most out of your WiFi whether it's the latest generation or not. And since we love to innovate, we plan to keep bringing you new technologies to make your smart home experience the best it can be.