Small Business Operations
How to optimize your business WiFi hardware for better productivity
by Plume Team
April 2022
No matter what type of small business you run, reliable business WiFi is almost certainly a foundational part of everyday operations—from payroll management and invoicing to processing transactions. A weak or spotty WiFi signal is more than just a nuisance—it can ding your productivity, hinder collaboration, and even harm your customer relationships. Whether you run your business from a brick-and-mortar location, a series of satellite offices, or even out of your home, your WiFi connection clearly matters. To get the most out of your internet ecosystem, start at the ground level—with the hardware. Below are a few pro tips on how to get the most out of your business WiFi, whether you're using a traditional router or have an intelligent system like Plume WorkPass installed.
Place hardware in a central location
Regardless of what your workspace looks like, there's one key piece of advice for setting up your WiFi hardware: Look for an open, central location where the signal is unimpeded by potential sources of interference (more on these shortly). Smaller workspaces may only need a single WiFi router, but larger, multilevel spaces may need a few different access points. In these cases, ensure that your WiFi router and access points are spread evenly throughout the space—and pay particular attention to areas where multiple employees tend to perform bandwidth-intensive tasks like large downloads or uploads, videoconferencing, etc. In these areas, it's particularly important that your WiFi hardware is able to connect easily to devices like laptops, desktops, tablets, and other smart devices. Small to medium-size businesses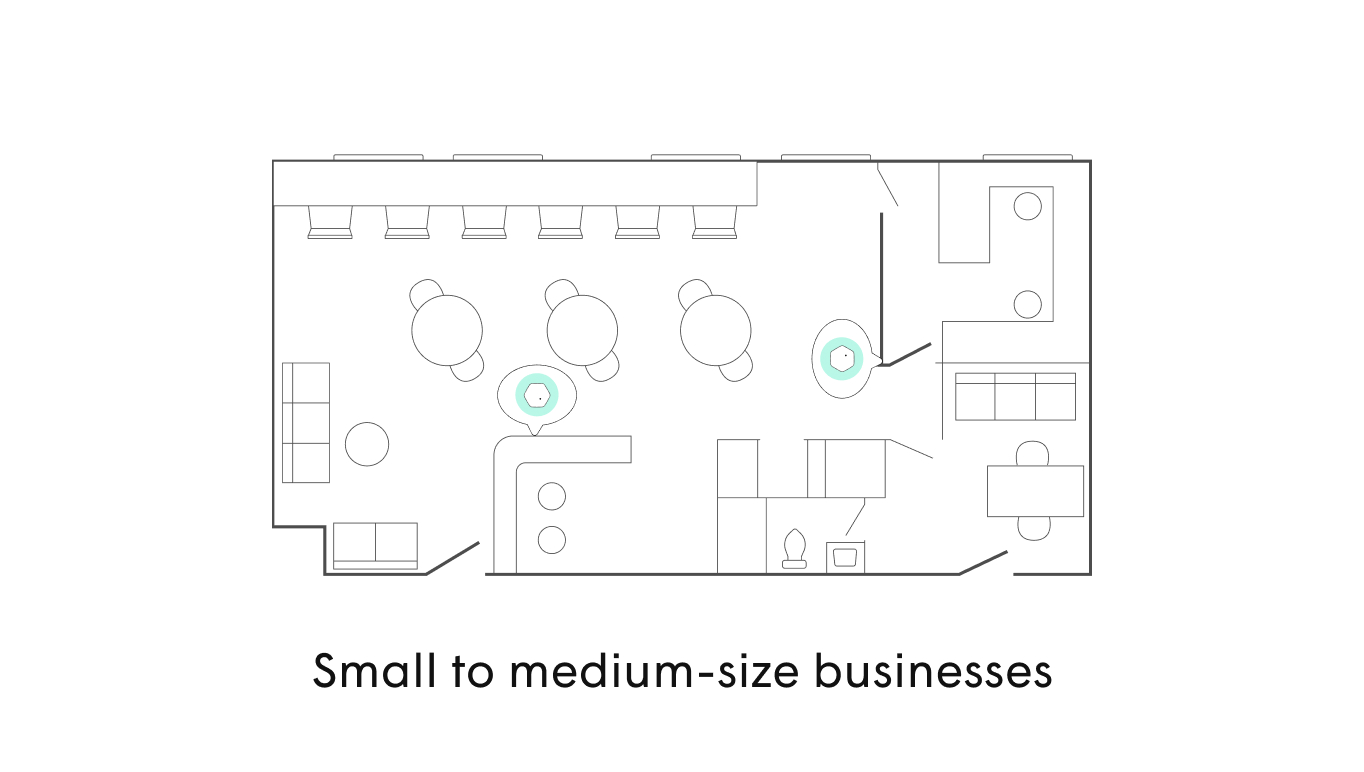 Large businesses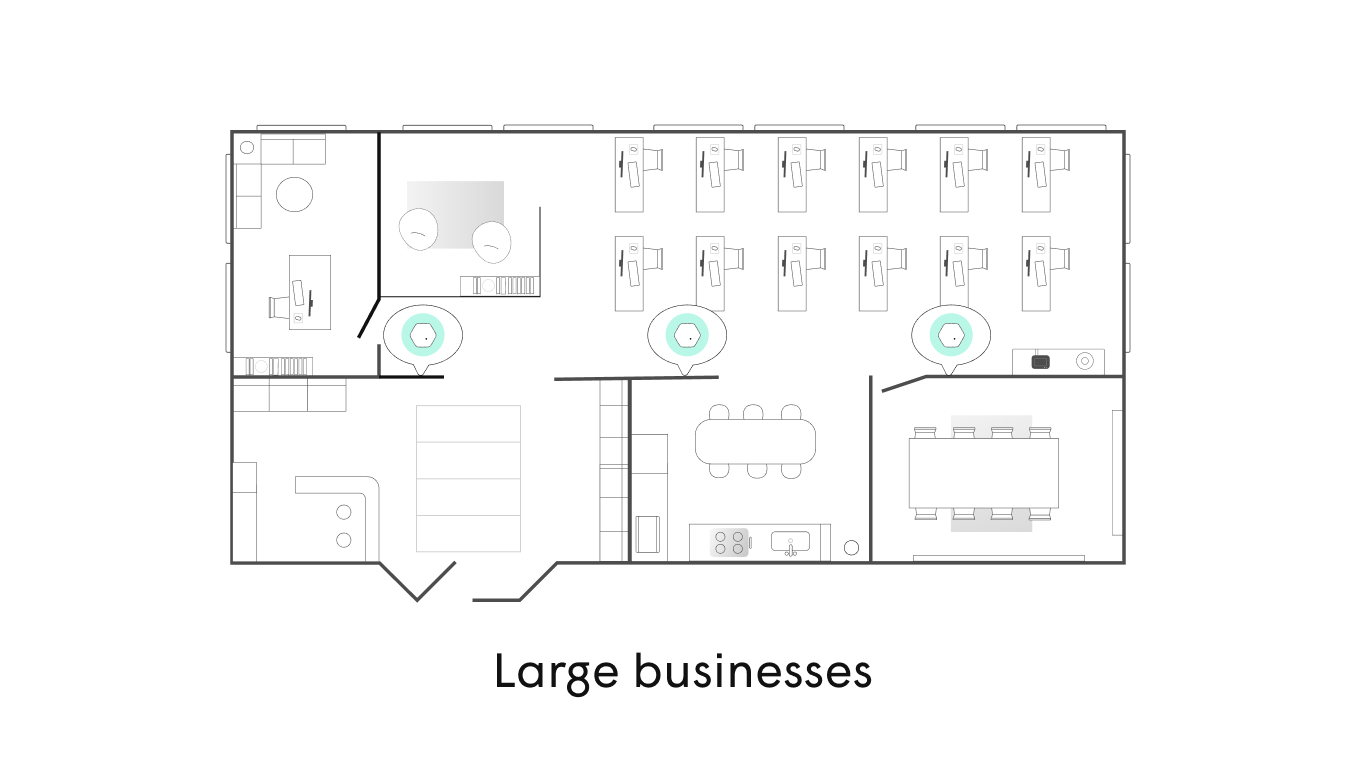 Irregular-shaped businesses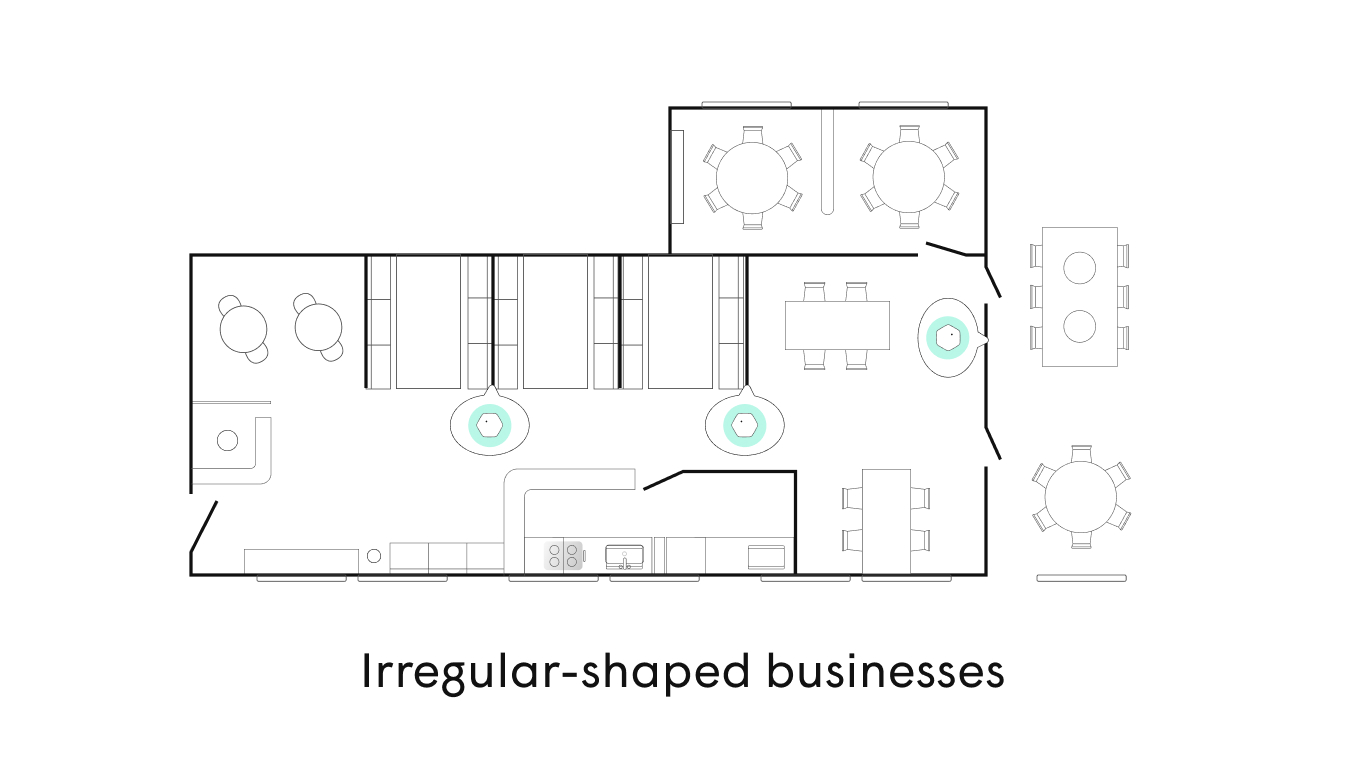 Avoid these interference factors
You're already accustomed to the juggling act of running a company—urgent customer calls, morning-disrupting meetings, the small fires you need to put out every day—so chances are the concept of interference isn't new. Luckily, WiFi interference is a simpler problem to solve. When setting up your business WiFi network, consider these factors, which can slow your signal or cause it to work sporadically:
Having multiple or parallel WiFi networks from an upstream or additional router
Bulky furniture like desks with dense padding and/or metal/wood framing
Devices that operate on the same frequency as your WiFi network
Metal doors
Mirrors and windows, which may reflect WiFi signal and affect its strength
Foil-backed insulation between floors
If you're having difficulty getting a strong signal in a specific part of your workspace, one or more of these factors may be the culprit. To optimize your WiFi mesh network set-up or other advanced WiFi management solution, place hardware in open, exposed areas. Look for central locations along interior walls. Avoid placing devices on walls with large mirrors or windows—instead, try to position them so that the signal can go around these things. To stretch your WiFi signal between floors, try placing your hardware near the stairs. If you're mixing and matching your Plume hardware like pods and SuperPods, use one central SuperPod to connect to your modem or router for the most optimal performance. Then, place pods in the farther reaches of your workspace. Your workday has enough interruptions—you don't need slow WiFi to be one of them. Setting up your WorkPass or other WiFi hardware in a thoughtful way not only boosts your signal—it can boost your productivity and even your bottom line.